Why partner with Brainfit?
Brainfit anchors on the teaching method Brain-Based Learning.  This method focuses on the questions "How do students learn?" "How do teachers best teach?"  It stands on these 5 principles:
Encouragement makes a difference.
– This Brainfit principle is based on the fact that when a students feels positive about learning environment, endorphins are released in the brain." When endorphins are makes learning a happy experience.
Brain Plasticity "Use It or Lose It"
– As our brain grow stronger, information can be stored, and retained.  Students need the opportunities to think, analyze and solve problems, to turn them into critical thinkers.
Mix it Up : Multi-faceted Instruction
– Multi-faceted Instructions (also known as Multiple Intelligence), is based on the fact that learning, not just a general intelligence, can be activated by using multiple means to facilitate learning.
Make it Relevant: Project-based Learning
– Relevance is the key in this principle.  How relevant is this subject to the student?  How can I apply what I learn in the future?  The more relevant the subject becomes to the student, the more likely the knowledge will be retained in the long term memory.  In project based learning, students act.  They formulate.  They execute.
Use Time Effectively, and Remember to Reflect
– Reflection is vital in consolidating all that has been learned.  When given the opportunity to think, and express their thoughts, students learn deeper.
What to expect with 

for the whole schoolyear?
For the next three terms, Hope Christian High School, in partnership with Brainfit will be implementing the following programs:
Fast ForWord® (1st term)
Smart Listening is the main key in this brain fitness exercises.  It was designed aiming to improve language and reading, by first improving memory, attention, and processing skills. Fast ForWord® is a powerful tool for accelerating learning for all students.
Fast ForWord® happens twice a week per class.
Visual Brain Pillar (2nd term)
Visual Learning and Attention helps expand visual memory and attain higher cognitive abilities, general comprehension and academic capability.  Strong visual brain fitness helps students to excel in "visual" subjects such as Math, geometry and have neat, effortless handwriting.
This will be implemented on the second term.
Focus/ Memory Brain Pillar (3rd term)
The last program puts mental stamina to the test with working memory exercises and mindfulness training.  The goal is to have razor-sharp focus.
This will be implemented on the third term.
Highlights during the second week of school
Induction of Officers
On July 30, 2018, school and classroom officers were inducted into their positions.  The ceremony was hosted by the former Student Council Organization (SCO) Mayor Dominique Cu, and former Vice-Mayor Joshua Kenichi Sim.  Rev. Leo Jaime Son and Rev. William Jonathan Ong delivered inspirational messages on leadership. In the turnover ceremony,  Ms. Dominique Cu also encouraged the incoming student leaders.  The induction ceremony was led by Mrs. Maria Bella Abad for the High School department, and Mrs. Jan Laurice Ong in the Elementary department.  Principal Angeline Tan-Tiller initiated the oath-taking.  Ms. Britney Mae Paderes, the new SCO Mayor responded with her speech.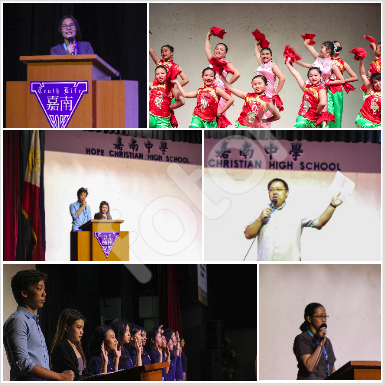 Excerpt from the messages given by the speakers:
Rev. Leo Jaime Son
"4 pictures from the book Habitudes by Tim Elmore:
Iceberg is a symbol of the importance in what is beneath the surface: CHARACTER ABOVE ABILITIES.
Thermostat is a reminder to affect the climate of the people they lead: INFLUENCE OVER ACCEPTANCE.
Computer illustrates the GIGO (Garbage In Garbage Out) principle. A leader needs to spend time to learn TRUTH more than worldly values.
Gas Pump symbolizes the need for fuel to avoid burnt-out. A leader needs emotional support from the right MENTORS.
Rev. William Jonathan Ong
Expounded on The Discipleship of Servanthood drawn from Matthew 20:28 "Jesus did not come to be served, but to serve, and to give His life as a ransom for many."  In God's eyes, being a disciple and a servant is inseparable. Our school is in great need of servant leaders. Leadership is not about popularity or power. Leadership is about sacrifice, selflessness and servanthood.